About
Learn Intestinal Failure TeleECHO Clinic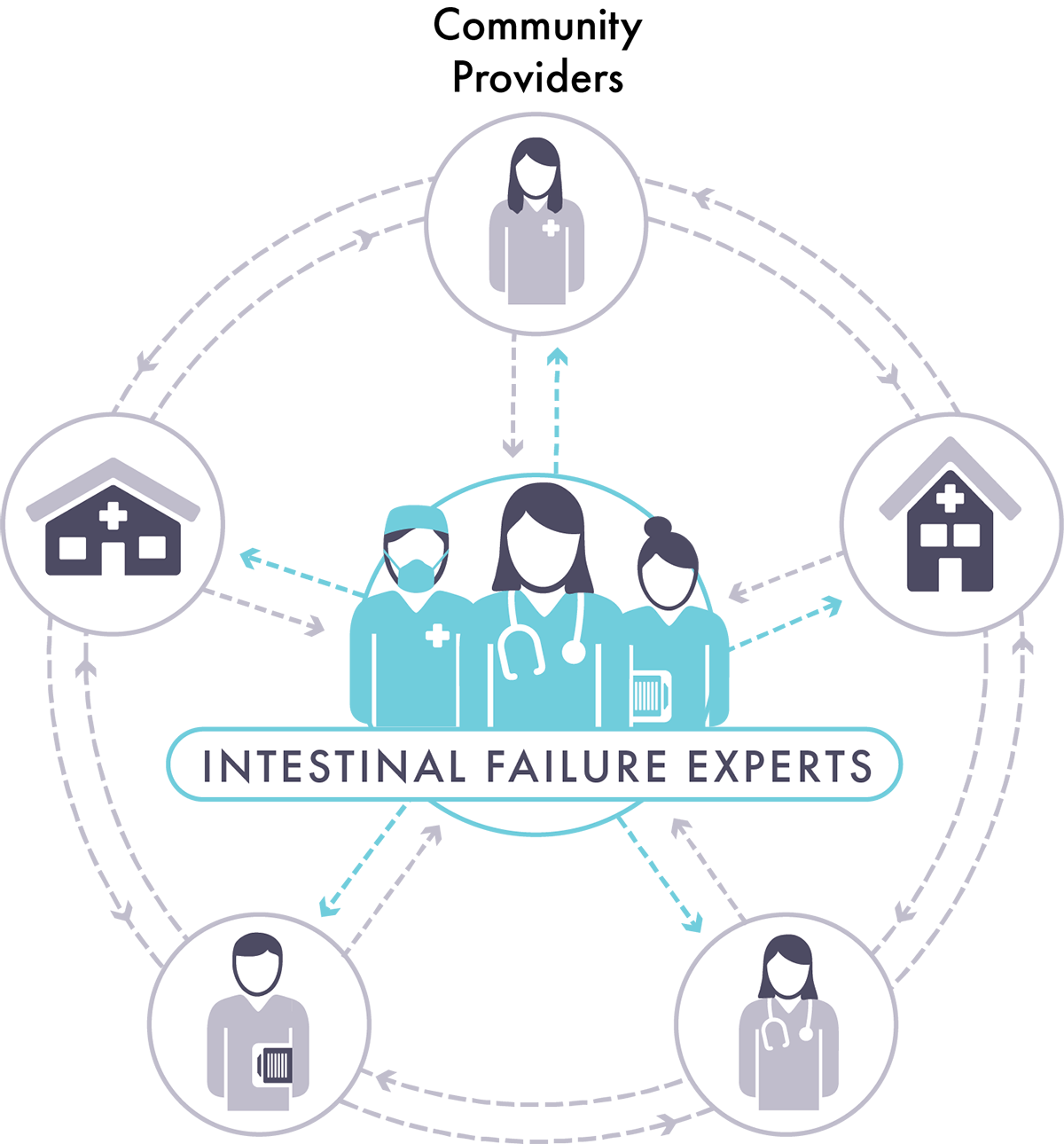 The Learn Intestinal Failure Tele-ECHO clinic (LIFT-ECHO)—launched by Dr. Kishore Iyer at Mount Sinai Hospital in New York—is an online community of medical professionals dedicated to supporting the treatment and management of patients with Intestinal Failure. LIFT-ECHO utilizes the ECHO® model, which links specialist teams at academic 'hubs' with primary care clinicians or other non-specialists in local communities (the 'spokes' of the model).
Together, hubs and spokes meet during scheduled, web-based teleECHO clinics, which are like virtual grand rounds combined with mentoring and case presentations. They are fully HIPAA-compliant and supported by widely available basic teleconferencing technology, made available at no cost to participating clinicians.
During teleECHO clinics, non-specialist clinicians from multiple sites can present patient cases to the specialist teams and to each other, discuss developments relating to their patients and together determine the best course of treatment.
The ECHO Model
Project ECHO® (Extension for Community Healthcare Outcomes) is a lifelong learning and guided practice model that revolutionizes medical education and exponentially increases workforce capacity to provide best-practice specialty care and reduce health disparities.
The heart of the ECHO model is its hub-and-spoke knowledge-sharing networks, led by expert teams who use multipoint video-conferencing to conduct virtual clinics with community providers. In this way, primary care providers, nurses, and other clinicians learn to provide excellent specialty care to patients in their own communities.
To learn more about Project ECHO, please visit the Project ECHO website.

What is Intestinal Failure?
Intestinal Failure (IF) is a chronic, debilitating disease whereby the intestines cannot adequately absorb the nutrients, water and/or electrolytes needed for daily function, often forcing the need for intravenous or parenteral nutrition (PN) support. IF may occur due to actual loss of bowel length form disease or surgical resection, resulting in short bowel syndrome (SBS) or due to functional disease of the intestine, despite the adequate length. IF is designated to be an orphan disease due to its rarity and is estimated to affect approximately 40,000 adult patients in the US.
IF is designated to be an orphan disease due to its rarity and is estimated to affect approximately 40,000 adult patients in the United States.
In recent years, parenteral nutrition (PN) has emerged as a life-saving therapy for patients with IF. With PN, nutrients, calories, and trace elements are delivered to patients through a venous catheter. While PN has been revolutionary in the field of intestinal rehabilitation, this treatment is complicated in a significant percentage of cases by liver disease or recurrent central line-associated bloodstream infections (CLABSI). Patients suffering irreversible IF or refractory PN deficiency who suffer PN-related complications become candidates for intestinal transplantation. The emergence of new growth factors related to naturally occurring Glucagon-like peptide-2 (GLP-2) offers hope for some patients to improve intestinal absorption and even be weaned off PN, but add significantly to cost and complexity of care.
The risk of life-threatening complications for patients with IF is heightened by the challenges of distance and access to expert care in a rare disease. Clinicians in remote areas and the patients they serve are hampered by lack of knowledge of both the fundamentals of IF management and new developments in the field. We believe these challenges can be mitigated through the use of the ECHO model.
Stay Connected
Sign up to receive information about our upcoming teleECHO sessions and catch the latest updates on LIFT-ECHO.